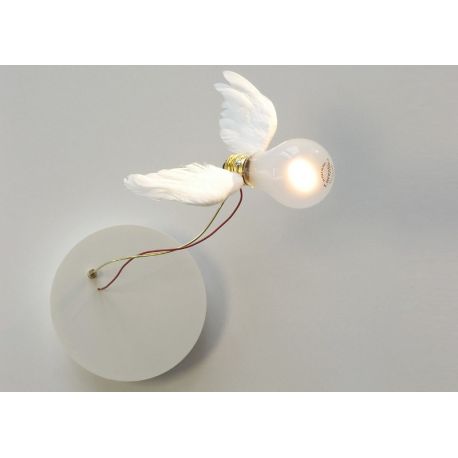  
Wall Lamp LUCELLINO NT Ingo Maurer
Wall Lamp Lucellino NT by Ingo Maurer 1992
Glass, brass, plastic, hand-crafted goose-feather wings.

With special halogen bulb 35 W, produced exclusively for Ingo Maurer GmbH, only for use in the Lucellino product family. 
Built-in transformer, no built-in dimmer.
Dimensions
Base-plate cover Ø 15 cm
More info
Surface-mounting box with white base-plate cover. Lucellino NT is dimmable with a dimmer-switch in the wall. No integrated dimming function! Not suited for rooms with high humidity. Complete with bulb and spare bulb.