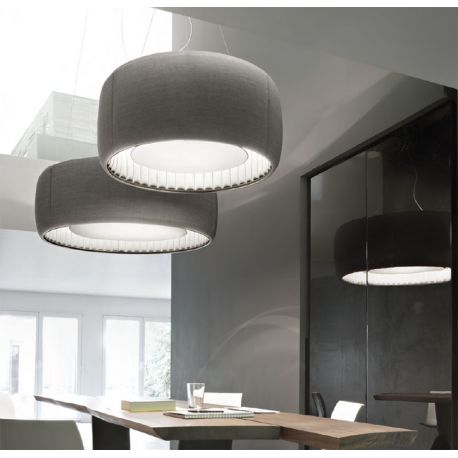  
Suspension Lamp SILENZIO Luceplan
Silenzio by Luceplan suspension lamp made with Kvadrat fabric shade. Design by Monica Armani.
Silenzio is an sound absortion.
Bulbs not included: 3x23W Fluo or Led E27
Quality of light is combined with acoustic comfort and the beauty of Kvadrat fabrics in the new family of suspension lamps and luminous panels. A lighting system that matches decor solutions with high levels of sound absorption, for public and private spaces.

INNOVATION
Suspension lamps that behave like upholstered furnishings and, if required, can be customized with a wide range of fabrics. Besides developing performance for acoustic comfort, these lamps decorate spaces, personalizing them, becoming their protagonists and setting the mood.

LIGHT AND FABRIC
For the offering in the catalogue, the Kvadrat textile, Remix 2 designed by Giulio Ridolfo has been selected. It has a "grisaille" look, and a texture with a materic, elegant hand. Other chromatic ranges have also been prepared to help clients to choose if they want to personalize their panels and hanging lamps in a "chromatic voyage".