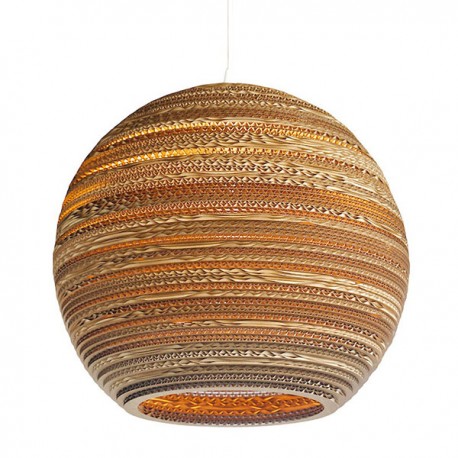  
Lámpara de Suspensión MOON 18 Graypants
Scraplight shades are made  from recycled cardboard boxes. all of Graypants lampshades are handmade and therefore can vary slightly in shape + size.

Lamped with one bulb (incandescent, compact fluorescent or LED), the Graypants MOON Scraplights provide a smooth decorative lighting, perfect for commercial and residential environments. all Graypants MOON fixtures come standard with a 2 meter long black fabric cord with matching powder-coated ceiling canopy.
Handcrafted from recycled cardboard, graypants' flagship scraplight series provides warm, intimate, and functional lighting for any occasion or type of space. Tough and elegant, each is precision cut with a laser and assembled by hand using a nontoxic adhesive, and all scraplights are treated with an environmentally friendly fire retardant.